February 2019
Preschool set the role play area up as a Chinese restaurant and went out for lunch for Chinese New Year. They practised using chopsticks picking up pompoms.
Older Toddlers practised their knife cutting skills, chopping vegetables for homemade spring rolls. They then enjoyed them as a delicious healthy snack.
Goldilocks and the Three Bears
Following on from our story of the month Toddlers made big, medium and small bear masks.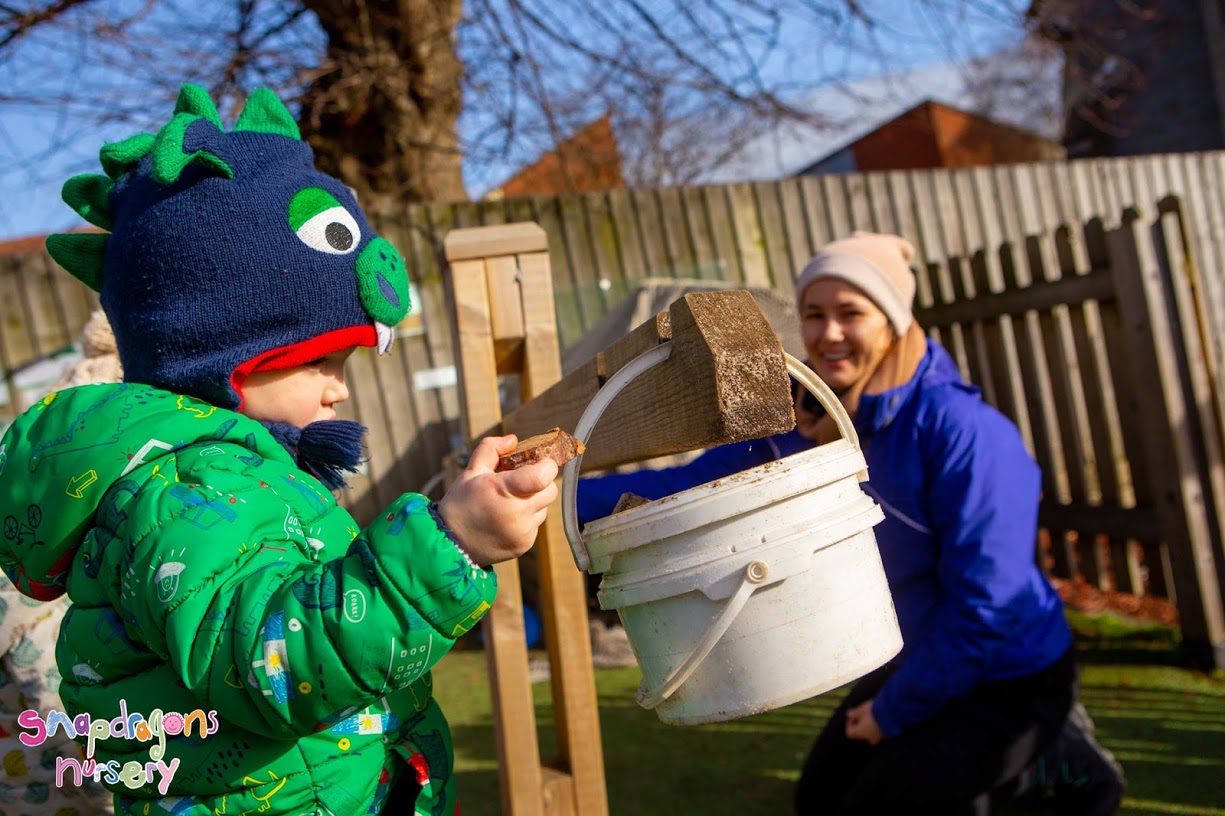 Shape, space and measure.
Preschool explored the weight of things, using our large scales to measure water and natural objects.
Babies got really messy exploring the texture of paint using their hands and feet.
Book of the month…
March's book of the month is Chicken Licken.
Theme of the month…
March's theme of the month is Expressive Arts and Design.
Dates for your diary…
Beep Beep Day - 18th March. We will be raising awareness on road safety, we will be exploring the road safety basics through fun activities.

Red Nose Day - From week commencing 11th March we will be raising money for Red Nose Day. Noses will go on sale from Monday, you can buy these from the office. On Monday it's a dress in red day, bring your child dressed in red. On Tuesday it's Wrong Nose Day, wear your red nose or pay £1 to have your child's nose painted. On Thursday we will be selling tea, coffee and hot cross buns in the morning. You can also take part in our sweepstake for a chance to win £30, pop into the office and pay £2 to take part! There will also be various activities going on throughout the nursery please speak with a member of the team to find out more.

Mothers Day - Friday 29th March. Join us for a Mothers Afternoon Tea from 3:30 - 5pm
Keep us updated!
If your details have recently changed it is really important that you let us know. You can email in any changes or you can edit your information on parent zone.

Snappy Superstars
Have you noticed a practitioner going above and beyond, have you been impressed by a practitioners amazing story reading skills, does your child come home always talking about the same practitioner, do you love how well the team work together... Seen any of this going on? why not share this on our Snappies Superstar page and nominate an outstanding practitioner or team. Click on the big flashing star on any page of our website.