October 2018
Snapdragons Nursery went to the farm E-I-E-I-O…
What an exciting time Preschool had at Lawrence Weston Community farm! The children enjoyed identifying the different animals and watching the chickens get fed.
Following on from our story of the month, the children got messy creating witches hats and enjoyed acting out the characters in the story.
Busy Babes
Look how busy the babies have been making wonderful creations. They made spooky treats for Halloween and got messy exploring paint.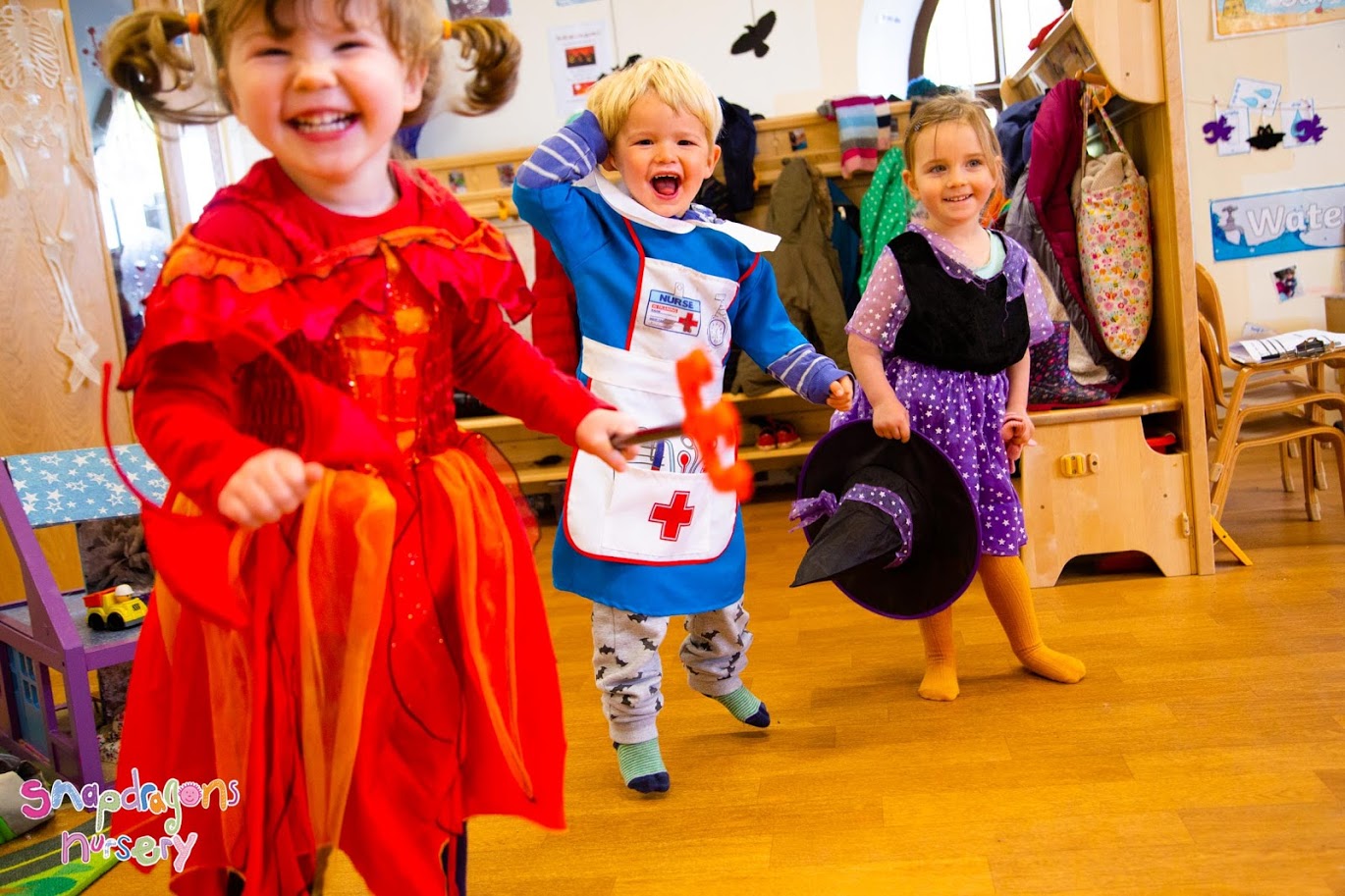 We had lots of frightful fun at our Halloween party. The children played Music-Ghoul statues, made creepy crawlies and explored the insides of a pumpkin.
Dates for your diary…
Children in Need
We will be raising money for children in need week commencing 12th November.
Cake sale - Wednesday 14th November.
Pyjama day - Thursday 15th November.
Sponsored Pre-School Danceathon - Friday 16th November. (Please pick up your sponsor form from Pre-School)
Christmas Party
Join us to celebrate the festive season. We will be having Christmas parties on week commencing December 10th.
Monday 10th December and Friday 14th December - Pre-School
Tuesday 11th December and Thursday 13th December - Babies
Wednesday 12th December - Toddlers.
Times TBC.
Christmas Nativity
This year the children in Pre-School will be singing songs from 'Prickly Hay' for their Christmas Nativity on Thursday 6th December. Pre-School would love it if you could come along and see them on the day. Tickets are limited to two per family unfortunately, but we will be recording the whole thing so you can order copies of the show to share with your family and friends at Christmas time. You will receive an invitation which will need to be completed and returned to the office by the end of November.
National Elf Service Day
We will be taking part in National Elf day to help raise money for Bristol hospital's. Taking part is really simple, all you need to do is donate £1 to dress your child up as an Elf on Friday 14th December. Posters will be going up around the nursery closer to the date as a little reminder!
We will also be doing a big raffle for the day, prizes include so far; a meal for two at The Wellington and The Urban Standard and a hair and beauty voucher. If you have anything that you can donate for National Elf day we would really appreciate your help.
Book of the Month
Novembers book of the month will be 'Peace at last'
Theme of the Month
November's theme of the month is communication and Language.
Welcome to the World
Congratulations to Jess from our Toddler room and welcome to the world baby Ivy Rose.
Congratulations to Tania from our baby room and welcome to the world baby Ellie Mae
Farewells…
We sadly said goodbye to Britney from Pre-School. We wish Britney all the best in her new adventure.
Welcome…
We would like to give a warm welcome to Shannon who joins us in our Older Toddler room and Georgia and Louisa who join us in our Baby room as lunch assistants.
Snappies Superstars
Have you noticed a practitioner going above and beyond, have you been impressed by a practitioners amazing story reading skills, does your child come home always talking about the same practitioner, do you love how well the team work together... Seen any of this going on? why not share this on our Snappies Superstar page and nominate an outstanding practitioner or team.